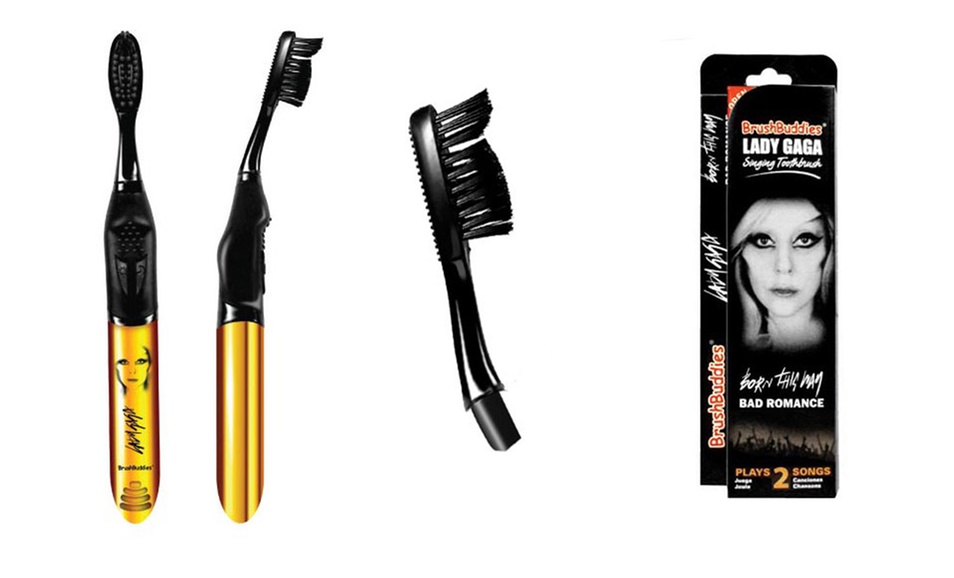 Groupon: Lady Gaga Singin- Online Deal
The Deal
$6.99 for a Brush Buddies Lady Gaga singing toothbrush ($14.95 list price). Choose between the following two-song sets:
"Born This Way" and "Bad Romance"
"Born This Way" and "Teeth"
---
Brush Buddies Lady Gaga Singing Toothbrush
Known for her flashy performances, pop singer Lady Gaga now inspires flashier smiles with toothbrushes preloaded with her top hits. Each song—"Born This Way" and either "Teeth" or "Bad Romance"—play a full two minutes, getting kids used to brushing for the dentist-recommended amount of time. An ergonomic design and black-and-gold exterior make the brushes fancy enough for acceptance speeches, and soft Dupont bristles gently remove plaque without damaging enamel.
Each song plays for two minutes
Soft Dupont bristles
Replaceable brush head
Tongue and cheek cleaner
Ergonomic design and soft rubber grip
Batteries included and replaceable
Dimensions: 8.5" (L) x 3" (W) x 1" (H)